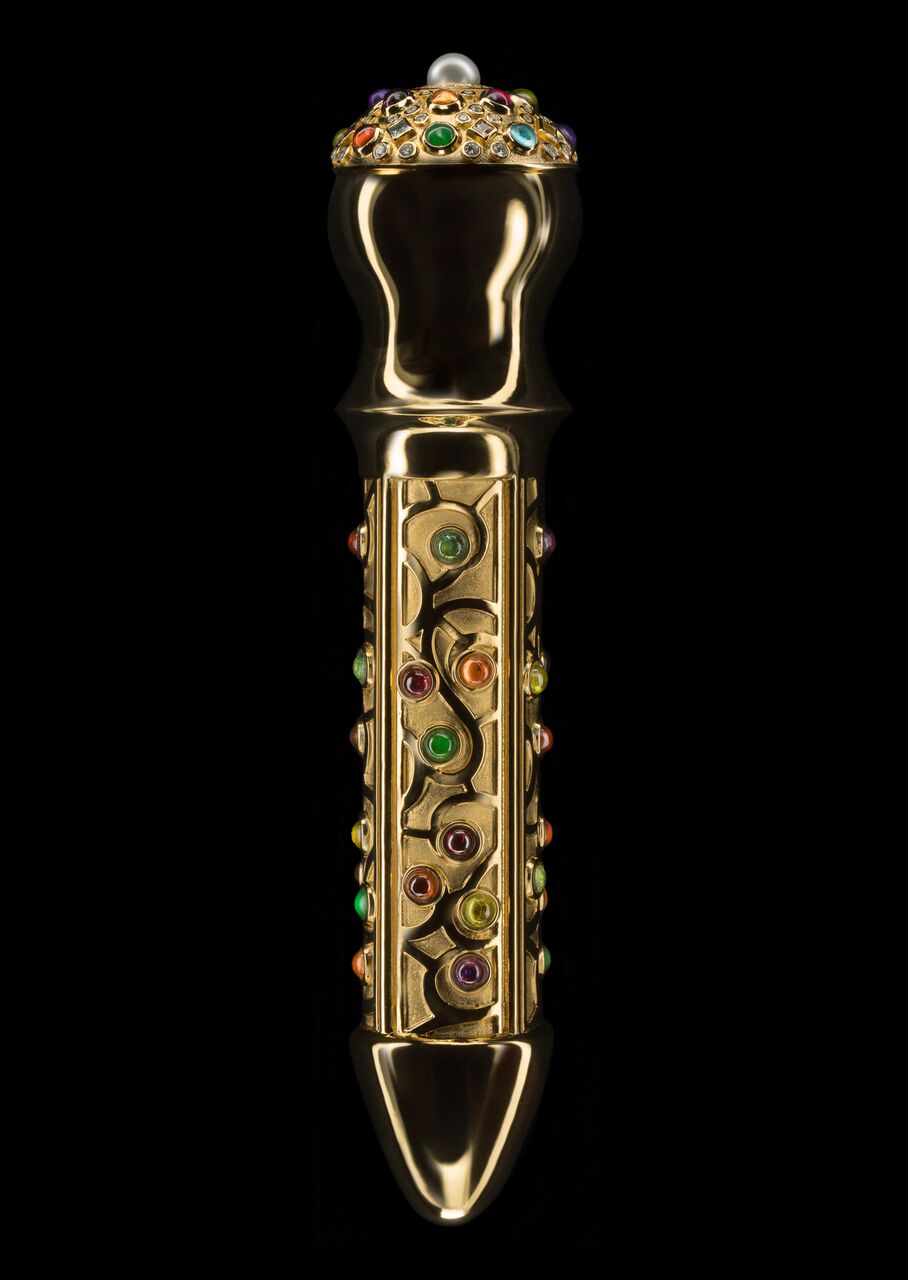 Name - Casanova
Collection - Olisbos
Exhibition - On permanent exhibition by appointment ACCA Gallery 468 North Camden Drive, 2nd Floor, Beverly Hills, CA 90210 USA
Materials - Electroformed 24 karat pure gold, South Sea pearl, flawless white diamonds, semi precious cabochons gemstones, princess cut AAA sapphires and emeralds.
Details - (Limited Edition 10 Only) Pure 24k yellow gold dildo, embellished with beautiful smooth colorful cabochon gem stones. The handle features a spectacular end cap full of rich colorful cabochon gemstones, sparkling white diamonds with exquisite sapphires and emeralds. The Venetian styled design is symbolic of vintage Italian feel rich in color and full of passion.
Artists Inspiration - My inspiration was to create a classic vintage styled piece in honor of the worlds greatest lover Giacomo Casanova, reflecting on his rich Venetian heritage and his impact on women's thoughts and their carnal actions. Designed to embody the image of Casanova as a red blooded Italian full of erotic passion, color and strength, dressed in ornate design bursting with sexual energy. The piece had to scream Venice with all the mystery of disguise and its naughty playfulness. Smooth cabochon gemstones possessing natural sexual healing energies of crystal were my inspiration to add in the color. The ornate wrought iron pattern on the shaft reflects Casanova's gateway to pleasure mixed with in with these lashings of color and passion. The use of rich yellow gold, diamonds, sapphires and pearl are designed to bring the piece together to represent this passionate Italian man and his famous legacy of love. Colin Burn
Jewelry artworks come with a limited edition certificate of authenticity from the artist and official GIA diamond certification where applicable.
Photography by Aaron McPolin and Chris Benson all rights reserved.